Student Outreach and Support provides this list of third-party resources as a courtesy to students, but does not specifically approve or endorse any of the companies or services listed. It is important for students to read and understand any agreements involved in utilizing any of the listed resources. The university does not make and expressly disclaims any warranty, guarantee, or promise of any listed third-party company or resource. Students are under no obligation to use the resources listed.
Resources for Regional Campuses
Well-being Wheel
Wellness is not merely the absence of illness or distress- it is a lifelong process of making decisions to live a more balanced and meaningful life. As students work towards their personal wellness, SOS encourages using the Well-being Wheel. The Well-being Wheel is a tool that illustrates a wellness model with eight dimensions that can help students survey what impacts their overall wellness. All of these dimensions are interconnected and important to a well-rounded and balanced life.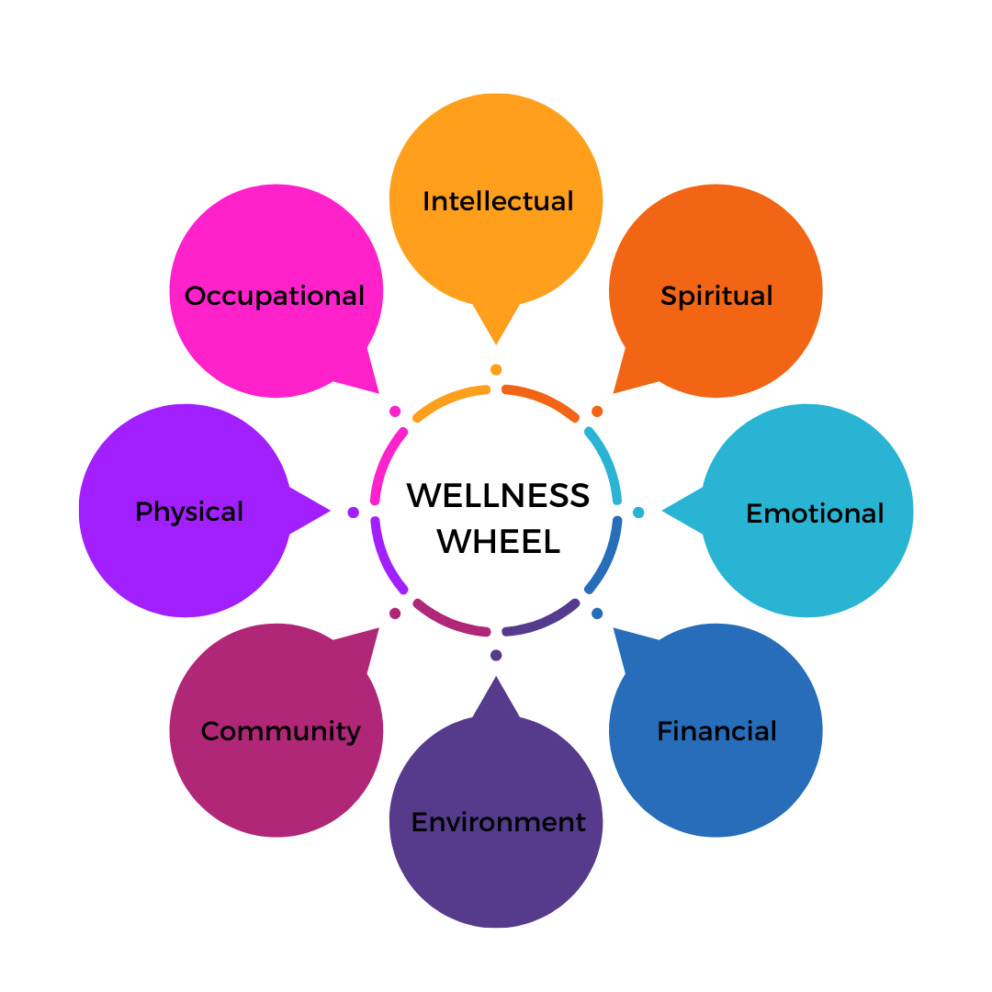 Below you will find community resources categorizes using the Well-being Wheel dimensions.
Emotional
Emotional well-being includes your thoughts, emotions and the ability to deal with life's challenges.
Suicide & Crisis Lifeline
This is a crisis hotline that can help with many issues, not just suicide. For example, anyone who feels sad, hopeless, or suicidal; family and friends who are concerned about a loved one; or anyone interested in mental health treatment referrals can call the Lifeline. Callers are connected with a professional nearby who will talk with them about what they are feeling or concerns for other family and friends. Call the toll-free Lifeline at "988", 24 hours/day, 7 days/week.
Lifeline Chat
Lifeline Chat is a service of the Suicide & Crisis Lifeline, connecting individuals with counselors for emotional support and other services via web chat. All chat centers in the Lifeline network are accredited by CONTACT USA. Lifeline Chat is available 24/7 across the U.S.
Crisis Text Line
Available 24/7, 365 days a year, this organization helps people with mental health challenges by connecting callers with trained crisis volunteers who will provide confidential advice, support, and referrals if needed. If in need, text "MHFA" to 741-741.
National Domestic Violence Hotline
If you are in an unsafe situation, call for help using the National Domestic Violence Hotline, open 24 hours a day, 7 days a week, 365 days of the year at 1 (800) 799-7233. If you are unable to speak safely, you can visit their webpage here or text LOVEIS to 22522. You are not alone.
211
211 is a vital service that connects millions of people to help every year. To get expert, caring help, simply call 211 or search by zipcode on their website for local information about essential needs, crisis and emergency, COVID-19, service providers and disaster assistance.
Project Sister Family Services
Project Sister Family Services provides services to women, children and men survivors of sexual assault and abuse and their families. Services include outreach education programs, crisis intervention services, and counseling services. These services are available to individuals living in La Verne, Pomona and Claremont.
Rape Crisis Hotline: (909) 626-4357
Main Number: (909) 623-1619
Tri-City Community Navigator Program
Tri-City's Community Navigator Program consists of highly trained individuals who specialize in linkage and referral to local resources. The purpose is to help people gain access to the services and support they need, both formal and informal. This resource is available to students who live, work, or go to school in La Verne, Claremont or Pomona. For services, contact Isela Moreno, MHSA Program Supervisor at (888) 436-3246 or imoreno@tricitymhs.org
Youtherapy Psychological Services Inc.
Youtherapy provides developmentally and culturally appropriate therapy services for individuals, couples, and families. Their therapists offer support using a personalized, strength-based approach that incorporates theoretical orientations such as Cognitive Behavioral Therapy (CBT), Psychodynamic Theory, and Attachment Theory. They provide these services in a well-appointed and comfortable environment, creating a safe space for personal growth, exploration, expression, behavioral change, and healing.
Youtherapy provides services on a sliding scale for University of La Verne students. 
CSU Merrill Center
The CSU Merrill Center is a 24/7 walk-in clinic available to individuals who feel depressed, scared, anxious or stuck. Services available are crisis assessment and evaluation, brief crisis interventions, coordination of admissions to inpatient facilities when necessary, peer mentoring, coordination of care with individual's support systems and community providers, referrals and linkage to community resources.
Community
Community well-being consists of building healthy, supportive, and nurturing relationships.
Tri-City Mental Health Wellness Center
The Wellness Center is a hub of community activities that promote recovery, resiliency and wellness for people confronting mental health challenges. All services at the Wellness Center are free and open to people of all ages. These services include but are not limited to:
Over 50 peer support groups
Peer and family support
Specialized services for children, transition age youth (TAY) ages 16-25 and older adults (ages 60+)
Employment and vocational support
Educational resources and workshops
Computer lab
Recreational, social and culturally competent activities
Assessment, linkage and referral
Tri-City Mental Health Virtual Student Support Group
With meetings on Tuesdays at 1 P.M., this college support group is open for all students who are still on campus and who are attending school virtually from home. It will be focused on the pandemic, quarantine, social distance, and the effects. The group will also allow open discussion to allow the students to share any topics, thoughts, feelings, and will allow students to get in touch with each other and support each other during this hard time. To sign up or inquire further, email Tri-City at wellness@tricitymhs.org. A calendar of other resources being offered virtually by Tri-City can be found here.
Physical
Physical well-being includes listening to and taking care of your body.
Medication
GoodRx is a helpful resource for students struggling to purchase their prescription medications and can assist in finding the most affordable pharmacy.
CalFresh
CalFresh is a nutrition assistance program funded by the USDA that can help students buy the food they need to live healthy and active lifestyles. It may help stretch a tight food budget by allowing students to incorporate healthy foods like fruits and vegetables into their diet.  Learn more and apply here.
Inland Valley Hope Partners- Food Security Program
The Food Security Program through Inland Valley Hope Partners helps no- and low-income residents of the Inland Valley access high-quality, healthy food resources each month with five program centers located in Pomona, Ontario, San Dimas, Claremont and South Pomona – plus two once/month food distributions in Upland and Chino.
Love INC.
Love INC offers a clothing pantry, baby pantry, S.U.D.S. pantry, kitchen pantry, linens pantry, homeless assistance, emergency food, birthday, Thanksgiving baskets, and holiday toys. To receive services call Love INC Mondays, Wednesdays or Fridays between 10am-2pm at 626-858-3300